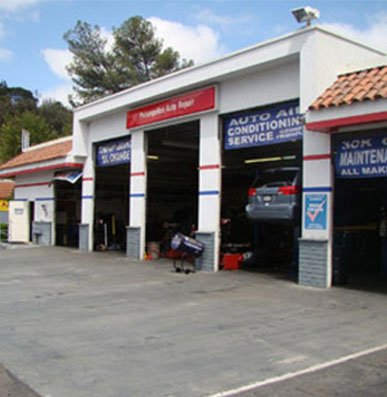 One-stop shop for all Auto repairs
At Penasquitos Auto Repair we pride ourselves on friendly, reliable auto care. Our technicians have over 50 years of combined experience in the automotive repair field. They are ASE certified and fix the problem the first time. This is why hundreds of people call Penasquitos Auto Repair their home for their automotive service needs.
COMPUTER DIAGNOSTICS
MAJOR ENGINE REPAIR
STEERING AND SUSPENTION
USED VEHICLE INSPECTION
SMOG CHECK AND REPAIR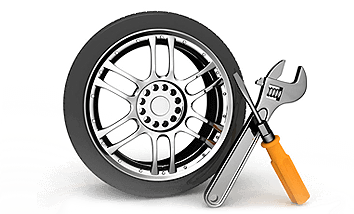 Why Choose Us?
Most auto repair and lube shops employ entry level technicians to preform oil changes. I believe that you need to be very experienced to properly perform routine maintenance. A technician needs to inspect the vehicle for wear and problems that have and may arise. That is why Penasquitos Auto Repair employees only ASE certified technicians with the ability to properly inspect and maintain modern automobiles. An oil change is the most important job in our shop.
Did you know that putting the wrong oil in your cars engine can turn on the check engine light? As today's modern engines struggle with how to get the most miles out of a drop of gas, they have turned to ways of adjusting the camshaft timing. There are oil control solenoid that adjust the camshaft and they rely on the oil to reach certain parts very quickly. If a heavier oil is used then that time may exceed set limits and cause drive-ability issues along with a check engine light. That is why Penasquitos Auto Repair only installs manufacture recommend oil viscosity and blend.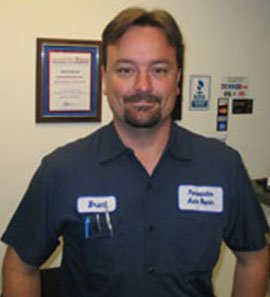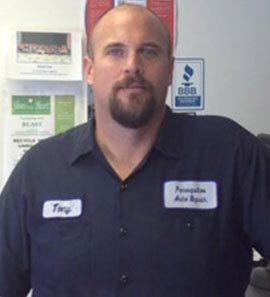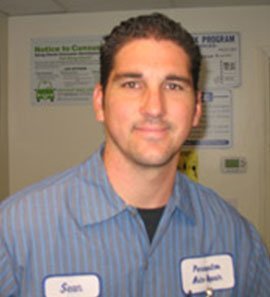 Sean Thorne
Service Advisor
Testimonials
I had a great experience with Penasquitos Auto Repair. I got a quote within hours through yelp and went in the next day for service. Their communication was very professional and friendly. They explained everything they were doing and didn't do service they didn't find necessary. They also made me aware of some other issues I was having that I didn't know about...
- Timothy G.
Brent, Tony, and staff are the only mechanics allowed to touch our cars. They are incredibly knowledgeable and they will never charge you for services you don't need. All work they do is the highest quality, and they don't keep you longer than necessary. If cost is a factor, they are happy to prioritize your repairs with an honest timeline for addressing them. This indicates they know they are doing good work and you'll be back...
- Brian E.
Staff is friendly and patient with their customers! I called before coming in for smog test the other day. They said no wait and I got taken care of almost immediately upon arrival. The staff works together seamlessly and I appreciate how they had handled the customers who were blocking the entryway to the garages. I had witnessed a "Karen" interaction but the staff handled the situation with ease. I was in and out of there in about 30 minutes.
- Vanessa N.
I have only gone here for smog check. Never any problems. Front desk dude is always nice. Smog Cost around $45.. it's quick. Takes around 15-20 min. I walked to McDonald's for a Sunday while I waited.
- Holly R.
I have visited multiple times for a smog check. Each time I have walked in and was in an and out fairly quickly. Sean greeted me and was very friendly. The cost was affordable and I found a 10$ coupon on their website. Make sure you print it out. I am not sure if they take digital copies. I love they have coffee with good creamer. They also have a water cooler with cups. It's the little things. Will definitely keep going back.
- Sherri H.
Getting a smog check is always agitating. What bogus service is the mechanic going to try and sell me with this check? How many times will I have to politely refuse a range of services my meticulously-maintained car doesn't need? PQ Auto Repair is now my go-to smog station. I walked in around 12:45, presented Sean with my DMV letter, and was walking back out less than 20 minutes later. 20 minutes! No upsells, no shenanigans. Thanks for respecting this shade tree mechanic, Team PQ Auto. 🙂
- Eric L.






Vehicle Maintenance
Whether you're looking for the basics like factory scheduled maintenance or 30k/60k/90k/120k mile services, or something more specific like computer diagnostics or safety and emissions inspections, we've got you covered.
Engine Auto Service
When that check engine light comes on, it's hard not to feel annoyed or even worried. We know how you feel, and we are here to help! At Penasquitos Auto Repair we offer a thorough engine performance check, as well as engine repair and engine replacement services.
Auto Electrical Service
Whether you've lost the "power" in your power steering or your vehicle is ready for power lock repair, we want to be your top choice. From alternators to windows and everything in between, trust Penasquitos Auto Repair to provide your automotive repair services.
Heating & Air Conditioner
We offer a full range of heating and cooling system diagnostics, as well as heating system and air conditioning repair and service. Our trained technicians are also masters of belt, compressor, and evaporator repair and replacement.